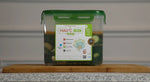 SUPER EASY PICKLES RECIPE (VIDEO)
Ingredients:
cucumbers 9 pcs (±2 kg)
garlic 4-5 cloves
salt 2 tbsp (30 ml or 45 g)
allspice 1 tbsp
bay leaves 4 pcs
mustard seeds 1 tbsp
fresh dill 2-3 pcs
hot water 1 l
Kitchenware:
Cutting board
Vegetable knife
MAGiC BOX 3,4l or fermentation jar / glass jar
Kettle
The easiest recipe we have ever posted. Let's go:
Clean garlic cloves and cut both ends of each cucumber.
Put salt, allspice, bay leaves, mustard seeds, fresh dill into your 

MAGiC BOX

Put in cucumbers
Pour boiling hot water in
Close the inner lid of 

MAGiC BOX

 and close it's valve, close top lid and leave to rest for a few hours then transfer to fridge.
Congratulations! In two days you will have a DELICIOUS pickles!